Global action: Nearly a third of the world's population are living under coronavirus-related movement restrictions.
Death toll tops 20,000: More than 472,000 people have been infected by the virus and over 21,000 have died, according to a tally by Johns Hopkins University.
US stimulus bill: The Senate voted to pass a $2 trillion economic relief package, which will go to the House next. US cases have topped 65,000, with over 930 fatalities. New York is the epicenter of the country's outbreak, with known cases there doubling every three days.
Spain reels: The country has now recorded more deaths than China — only Italy has more.
Vietnamese airline launches controversial coronavirus insurance
As the aviation industry continues to be slammed by the coronavirus pandemic, one budget carrier has gone for a very different and rather divisive approach.
Vietnamese airline Vietjet has launched an insurance policy named "SKY COVID CARE" that allows passengers to claim up to 200 million Vietnamese dong ($8,550) if they are infected with the virus while traveling on one of its flights.
The aim of the policy, which is free of charge and covers all domestic flights between March 23 and June 30, is to help "bring passengers assurance," according to the airline.
In an official statement, Vietjet says it's prepared to pay out "tens of billion dong" to ensure that its customers feel at ease while traveling during the ongoing crisis.
"The health safety of passengers and cabin crews are protected at the highest level against all risks of disease," reads the statement on Vietjet's official website.
"With the insurance, passengers are eligible for insurance coverage and benefits from Vietjet within 30 days starting at 00:01 of the flight date, regardless of how passengers are infected with the disease."
How the policy works: To make a claim, passengers must provide proof that they've tested positive for coronavirus (subject to a test approved by Vietnam's Ministry of Health) and evidence they were treated "at a hospital or at authorized medical camps located in the territory of Vietnam."
Anyone who has already tested positive, or who has violated government travel regulations or quarantines, will be ineligible.
Those with "epilepsy or mental illness" are also ineligible, along with anyone who submits incorrect personal information.
A therapy dog brings comfort to ER doctors on the front lines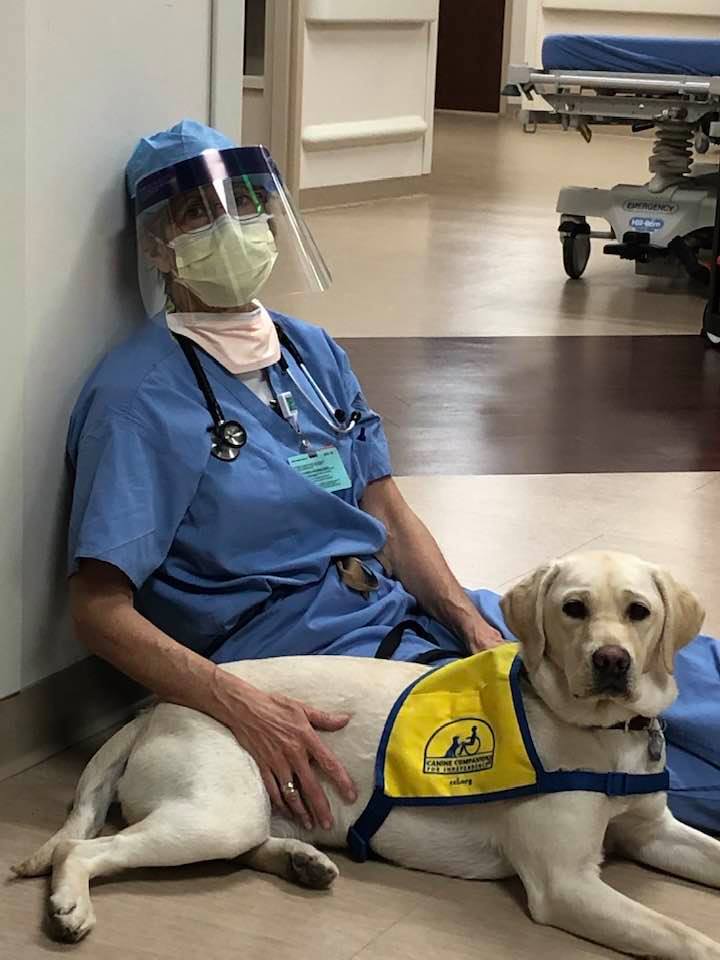 Heroes come in all shapes and sizes — this one just happens to have four legs and a furry coat.
Wynn, a service dog in training, is bringing joy and comfort to the medical staff on the front lines of the battle against the coronovirus in Denver, Colorado.
The one-year-old yellow Labrador serves up cuddles to health care workers who need a much needed mental break from the emergency room at Rose Medical Center.
Wynn is no stranger to the medical staff, as she's being trained by Susan Ryan, an emergency physician at the hospital.
Ryan shared an image of the two of them on Sunday. In it, the doctor is seen wearing a face shield and a mask while sitting on the floor of the hospital petting Wynn.
"I saw Wynn coming back in from being walked outside," Ryan told CNN. "I just slumped down on the floor and said 'can I just have a minute with her?'"
Ryan said she had just finished with a patient and washed up before getting some quality time with Wynn.
"Seeing stuff and hearing stuff that you can't unsee has an impact on you," Ryan said. "That's where the dogs come in. When you are in the presence of the dog and petting them you are taking a moment to ground yourself at that present time."
Now, Wynn is set up in the social workers office and on-call for staffers who need some puppy love to relieve stress. In the room, lights are dimmed and meditation music plays to provide the best place for medical staff to take a little mental break before returning to their jobs.